THE PUREST MEAT ON THE PLANET
Now available for you: several new unique brands and products, brought to you by GoodFood.World. We represent inspiring new brands with solid quality history in several food and drinks categories. All products, textures and flavours in a truly unique eat or drink experience you will never forget, and we know you will tell all your friends about! Many of these brands and products are true AWARD WINNING products, in their home country, or also in worldwide competitions.
We invite you to get to know these brands & products and contact us freely for delicious tasting samples.
You will run no risk trying, but you will surely win a life changing food experience!
THE STORY OF NORDIC MEAT FINLAND
Nordic Meat is one of the leading meat and vegan brands in the Nordic Scandinavian countries. The company has been established since early 1900s and is greatly valued by all Scandinavian customers, personnel and owners. The company has a family based cooperation structure, everybody working together to support Finnish meat excellence. Nordic Meat is also vertically integrated from feed mills and farms, to consumers dining tables.  Truly from farm to fork.
The company's development and growth are based on excellent commercial expertise, efficient operations and a very professional management, with an operating method that respects consistent, sustainable success for many decades. Nordic Meat has around 5,000 employees and a yearly sales value of 1,5 billion Euro, growing steadily.
Finland is the most Nordic situated agricultural country in the world. Winters are long, cold and dark, summers are short, intense and the sun shines around the clock. These Arctic conditions enhance the natural flavour of food, strengthening true grit in both humans, plant life and animal life as well. Full natural flavours and textures, 100% health and endurance. You can taste the difference!
Air: The weather is influenced by the fresh polar winds and Nordic weather patterns. 
Water: Finland has a more than 1,000 lakes area with enormous natural sweet water reserves.  
Soil: our soil is among the oldest in the world, shaped by the Ice-Age. Agricultural lands are moisture absorbing and nutritious. Excellent air quality also means no heavy metal residue in the soil.
These clean source materials are forming the perfect natural basis for 'the purest meat on the planet', our slogan with reason. And you can taste it! Ask people whom have been to Finland. Or better, contact us and receive samples, so you can try yourself. Finland is also proud of its very clean nature in combination with excellent animal welfare.
All these factors together make Finnish products pure and rare. So is our brand: NORDIC – GoodFood.World
3 unique Nordic meat products you should try:
Nordic Meat's export countries anno 2019 were Finland's purest meat is being enjoyed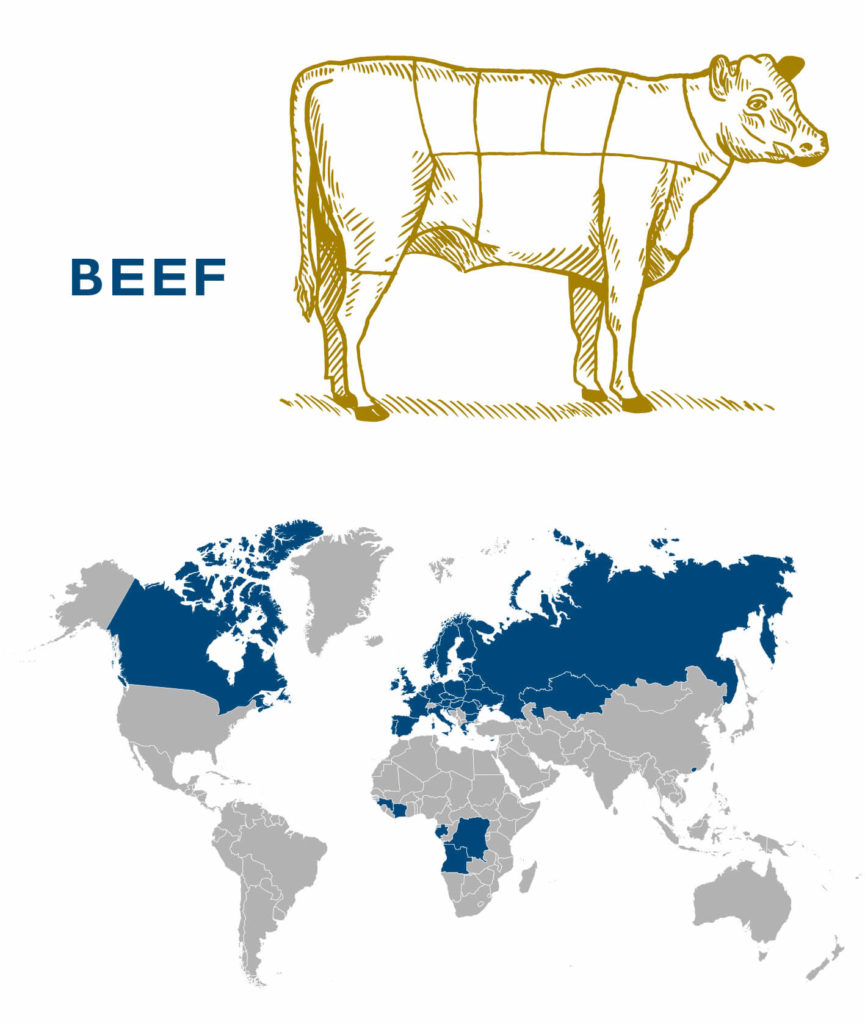 Best beef steak material comes from Finland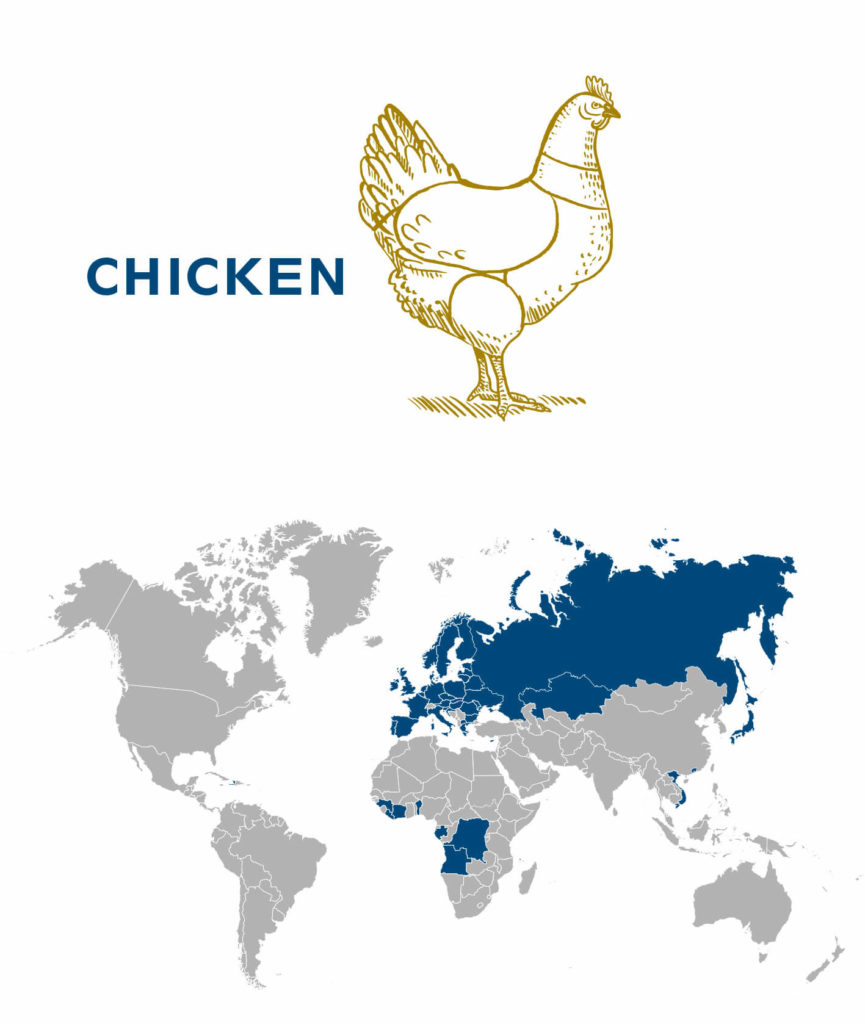 Pure Rare Chicken
free from all unnaturals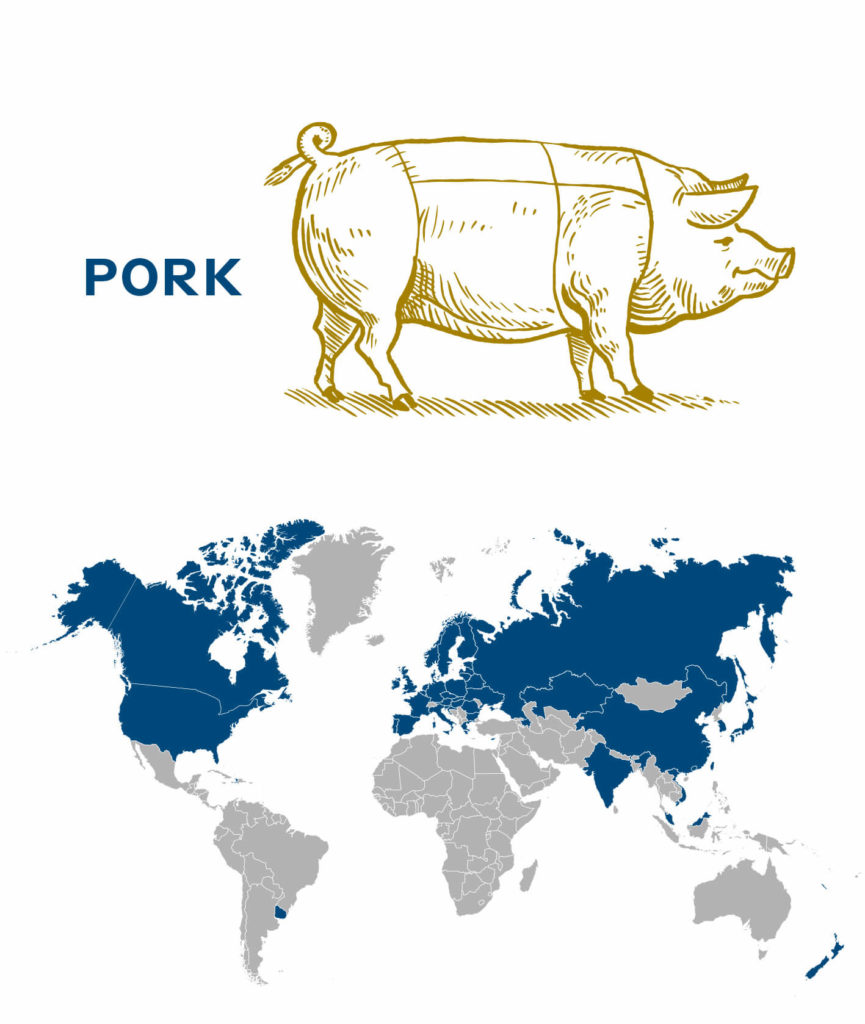 The cleanest, most delicious
meat proteines in the world
Finland has a very professional attitude towards absolutely "risk free" and clean label "free from" any unnatural ingredients,  clean and with great care holding animals and making animal feed. So: absolutely no antibiotics, no gmo, no salmonella, animals fed with home made animal feed, the very best animal welfare in the world. 
Farmers keep to the most strictest regulations and quality and safety standards in the world. The very best, only for you! From family farmer to consumer and family, Nordic Meat offers the best eating experience in the world. Because … Good food = better mood.
Nordic Meat's meat is traceable to the original farm
You can be proud of each meat product, as Nordic Meat guarantees the origin from a Farm in Finland. All Nordic Meat's products with a 'Family Farm' label shows the origin of the meat, straight to the original farm. This traceability also means double safety in relation to antibiotic free grown meat (ABFG meat).
• Beef: Beef prime cuts, and other pieces.
• Nordic style Leaf steaks = 1 minute steak – in 3 meats: beef, pork, chicken.
• Ready-cooked, grilled, sliced special pieces – in 2 meats: beef & pork.
• The most delicious chicken in the world! – From chicken filet, inner-, wings, etc.
• Nordic culture style products / Scandinavian segment culture – Pancakes, sauces, and more.
THE PUREST MEAT ON THE PLANET FOR YOU
Nordic Meat's products are directly available from manufacturer or from national importer for retail, foodservice and catering industry. We are in 2020 looking for serious partners in each European country. Are you interested in adding a truly unique and value adding brand, do contact us?!
Nordic Meat delivers the highest Quality standards and Best Before dates on each of their products, related to fresh or frozen conditions. With solid management of the whole process from farm to fork, realising 100% consumers satisfaction.
Sales conditions are conform Nordic Meat's conditions. Please contact us.
600+ million kg meat produced in Nordic Scandinavian region
Nordic Scandinavian companies also make the most delicious and healthy VEGAN food products!
QUALITY SYSTEMS OF NORDIC MEAT
ISO 9001 : 2017 Quality system
ISO 14001 : 2017 Environmental system
ISO 50001 : 2011 Energy management system
FSSC 22000 Product safety system
ISO/IEC 17025:2005 Laborator accreditation
Organic production (EY) N : o 834/2012

GoodFood.World introduces, promotes and sells Nordic Meat in their market development in Europe in Germany, Benelux, France and Mediterranean.
GoodFood,World support the best clean label products with durable and sustainable policies and origines.  Only the best manufacturers, brands and products receive our GoodFood.World quality logo.